Looking for down-to-earth healthy restaurants that offer plenty of wine and beer in St. Pete, FL, we stumbled upon Three Birds Tavern. Sure, St. Pete has so many other options to choose from, and several of them using fancy words to describe themselves like "fusion…." or hipster restaurants with misspelled restaurant names (I'm looking at you, "Tayst"). But when we first arrived in our city, all we really wanted was a go-to place that had good food made with high quality ingredients, plenty to drink, and a casual atmosphere that makes us happy simply being there. Bonus points: It doesn't break the bank.
Restaurant and Bar Atmosphere
For anyone visiting St. Pete, FL, we recommend Three Birds Tavern located on 4th Street. Easy parking sits next to a converted farmhouse with a wrap around porch and surrounded by trees decorated with hanging lights. We've been here both in the afternoon and at night, and the trees make the place feel private and magical. As if I'm a bird up in a tree myself!
If you're not into sitting outside, then indoors has a pub feeling with exposed stone brick walls. To feel even extra pub-y, Three Birds offers a ton of beers from Europe to encourage that fresh-off-a-work-shift-and-ready-to-get-pished feeling. On my first visit, I was super excited to order a Danish Carlsberg!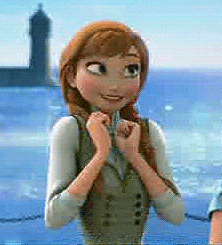 It can get a bit active at night and on weekends, but we've never had to wait for a table just yet. To be on the safe side, you can call ahead. We did that for a Saturday night to ensure a spot, and despite the typical crazy Saturday night business, Three Birds allowed us to reserve a table in advance with our own TV already set to air the UMBC NCAA basketball game (Go, Dawgs!).
It's pretty casual for the most part. No dress code. And you can get rowdy at the bar or lay back in a booth or patio. They're dog friendly, too! On the lower patio, I once saw a table of 5 dogs – all the same fluffy breed – sitting together on a Friday night. It was very Dogs-Playing-Poker-esque.
Our Favorite Foods
Honestly, Jeremy has only ordered one thing: the Spicy BBQ Chicken Sandwich. He's never disappointed, and he hasn't yet discovered this perfect taste anywhere else in St. Pete. Watch his progression of pure bliss below.
Other than this chicken sandwich, below are a few of our favorites. All lunch and dinner options for now. We still need to go for brunch!
The Beyond Burger – My all time favorite and healthy choice. The flavor depends on that day's hummus, so you get the joy and surprise of a different flavor with every visit. This does sell out. (That's how good it is!)
Avocado, Bacon, and Egg Burger – A juicy, delicious burger. (I'm drooling now just thinking about it)
Spicy BBQ Chicken Sandwich – Jeremy's favorite. It's covered with his favorite things: spicy chipotle sauce, pepper jack cheese and meat.
Intensity Academy Carrot Karma Hot Sauce – Technically not a item on the menu, but I finish half a bottle every time. They keep these for free on each table. If you don't see a bottle, then ask!
Sweet potato fries – My guilty obsession. This may not be considered a healthy option since it's flavored with honey and cinnamon-bourbon butter, but you could probably ask for the toppings on the side.
Grilled Shishitos & Cheese – Mega delicious. I added a tomato to mine because #AddictedToTomatoes
Chicken Salad Sandwich – HUGE servings! And oh-so-yummy with every HUGE bite.
If you visit, let me know what you think! And if you try something else (Mmmmm… like that Waffle Waffle….), give us a shout and tell us how it did!