Happy Halloween, friends! I hope y'all are dressing up in your favorite costumes for some good ol' fashion trick or treating. In honor of costumes and how – even as an adult – I still really love putting one together, today's blog is about Run Disney Costumes! I've shared a few of my own (and future idea coming early 2019!), as well as some others who have really pulled together great running outfits for Disney races.
Tutus!
Tutus are a super cute, fun way of dressing up. I personally have never done it, but I've seen some really well done tutus at races. And it's a good option to emulate a princess skirt without the actual pouf and length that would be too hard to run in (and against the rules! Make sure you check out Disney's costume guidelines before investing time and money into your outfit.).
Full Out for the Princess Half Marathon
My first Disney race ever was the Princess Half Marathon in 2016. I dressed as my favorite princess – Jasmine – and I was determined to wear a costume that felt more "real," if you know what I mean. I found this outfit on Amazon and it looked so perfect and unique! I overheard many other runners around me complimenting the outfit.
I wore a sports bra and running pants underneath. I pinned my Jasmine style pants to the running pants so that it won't slip down during the race.
However, if you decide to wear something similar then be warned about the ribbons that run down the legs. Several times throughout my race, they got caught on my knees. It didn't stop me from running, I just adjusted my stride. But if I ever wore this again, I'd do something (perhaps pinning the ribbons down at the knees?) to fix this inconvenience.
An Affordable Themed Costume
For the Wine & Dine half marathon, I really struggled to come up with an idea. I wanted my costume to be Disney and food related, but I also didn't want to spend too much money. I had several ideas inspired by many Pinterest searches (a hungry Winnie the Pooh, Colette from Ratatouille, simply a food item…), but then I stumbled upon this red polka dotted apron. And for only $14! I ordered it and became Chef Minnie when I paired the apron with my Minnie ears that I already owned. This was a huge win for me!
Themed Outfit for the Star Wars Dark Side Half Marathon
The theme for Star Wars race weekend changes every year. In 2018, it was the Dark Side and next year is the Rival Run. Less of a costume and more of a themed running outfit, I dressed in navy blue running pants with a Star Wars Trooper bathing suit. I don't think they sell this bathing suit anymore, but I found a few others that are pretty neat and along the same lines. Like this Rebel Pilot, this Kylo Ren suit, an Ahsoka suit, and of course R2-D2!
The bathing suit was comfortable with surprisingly no chafing! I think including the pants helped, and I wore an extra sports bra underneath for support.
One con: A little more challenging than normal for a quick pee in the middle of a race.
Mandatory medal kiss pose, obvi.
Coordinated Group Outfits
I haven't yet ran with a group in a Disney race, but others have really put together adorable matching costumes. Here are a few of my favorites grabbed from around the web.
Be creative!
Honestly, wear what makes you comfortable and confident. You don't want to be running a half marathon in something you regret or inconvenience you during the run. But if you can, let yourself be creative and let the costume be what you want. Here are a couple that I've seen recently for your own inspiration.
Major props for this one shortly after Carrie Fisher's death.

Beat Zurg!
Walt Disney World's Marathon Weekend
I'm running my very first full marathon this January at Walt Disney World's Marathon Weekend. This race has an evergreen theme, so I decided to dress as a character who represents determination, positive thinking, and is also super cute. 🙂 Won't spill my beans but excited for this one!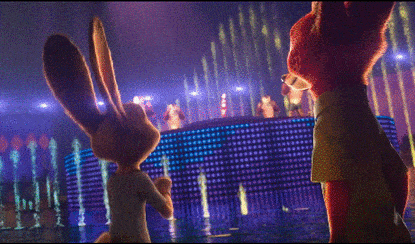 Update January 2019:
I finished my first marathon and I wrote about it here. I'm super happy with how my Judy Hopps costume came out too. 🙂