There's plenty of research out there that says exercise helps with happiness and health. (See here and here for starters.) Even Elle Woods has said it (well, sort of):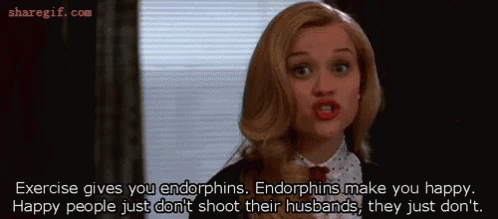 So, finding a way to boost more happiness to get that hygge life meant finding fitness near me.
Outdoor Running Workouts
Jeremy and I are so fortunate to have moved in a neighborhood near the water and large sidewalks dedicated to pedestrians and bicyclists. I ran almost every day and explored the paths along the bayou. I saw so many birds, fish, and Floridians. Being new to the neighborhood, it was also a good way to learn our area.
Running didn't always come easy to me. I started in my mid-twenties and trained myself. Here are a few of my tips I've learned over the years (please note that I'm not an expert! This is just what has worked for me):
Start Slow – Endurance is hard and only gained with consistent practice. When I first started, I pushed myself to finish half a mile before stopping to walk. After another half a mile of walking, I pushed my pace again. I kept this interval going and increased my goal (run 1 mile and walk .5 mile, run 2 miles and walk .5 mile, etc.)
Create Milestones – This is about a different kind of distance milestone. During a run, I'll pick an object in the distance to reach. It may be a street sign at the end of the block or a pretty tree that I can rest under and stretch for a minute. I really believe that this tactic helped pushed me to continue.
Daydream – Yup. I daydream everytime I'm running. Even during short sprints. It takes my mind off and the time flies by faster. If I'm listening to good music, I'll imagine the choreography to go with that tune.
Invest in Good Shoes – Seriously. Buy the best running shoes that you can afford. No one wants poor support, shin splints, or simply being uncomfortable. If you don't know what you need, I recommend going to a local running store with trained specialists. In some stores, they'll measure you, have you a do a few exercises to test your alignment, ask you to jog on a treadmill so they can watch your stride, and then provide recommended styles and brands of shoes. Sometimes these options are a little more expensive, but after you know your recommendations, then you may be able to find alternate brands but in the same style of support.
I usually run alone (and sometimes with Jeremy on special occasions, like exploring a new town while on vacation), but many people work well and learn to commit when they have a support system. There are a ton of running groups out there. Here's one that I've participated with in the past that's free!
Indoor HIIT Workouts
When the Floridian summer heat came, I really wanted to go inside. There were some days that were declared as "unsafe" due to air quality from the heat. I didn't want my fitness to slack, because #BikiniSeason, so I signed up for OrangeTheory. They had a location just 10 minutes away from our apartment and offered a class early enough so I still had time to get back home, shower, and head to work. OrangeTheory has HIIT workouts using intervals on the treadmill, rowing machine, and weights. Each workout varies every single time I go, which keeps it interesting.
And, girlfriend, these workouts are killer…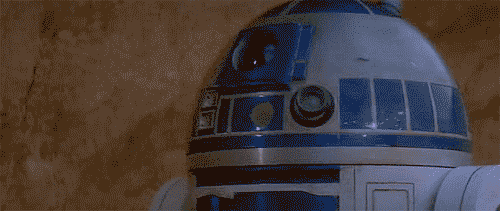 But oh so incredibly good. In just three months, these were my results after joining OrangeTheory and going to 2 classes a week (fyi – I still ran on a treadmill 2-3 days of the week).
Starting Weight: 150 lb
Current Weight: 141 lb
Other than weight, I also noticed these changes:
My running endurance and speed improved significantly. I was running faster than Jeremy and with more stamina that I didn't think would ever happen.
I noticed muscle definition that seemed like a lost friend from my pro cheerleading days. Oh hello there, biceps.
And… I felt happier. Yes, the goal of happiness from exercise actually happened. I found myself smiling more. Most at ease during work. Laughing more.
So, am I generally happier due to exercise? Yup. I really think my dedication and variety of workouts have helped with my happiness. I think it's a bit of how I see myself, my energy levels, and feeling accomplished with reaching goals. The trick to keeping this going will be to avoid fatigue. Any advice? Feel free to write in the comments!